Data analysis and reports about Search Engine Optimization for FrontPage Data
I worked together with Daniel Kupka of FrontPage Data for the company Rankings.io on the topic of Search Engine Optimization (SEO). FrontPage Data is a German-based company providing data-centric content to boost the visibility of their clients. Rankings.io is an American SEO agency for personal injury lawyers and other elite law firms.
My task was to design studies; collect, analyze and visualize data; and summarize my findings in visual reports. My findings and visualization were then used to write blog posts in order to generate clicks and discussions in the SEO community.
I conducted 3 data studies:
Click-Through-Rate Study
Does organic Click-Through-Rate (CTR) impact SEO rankings? The SEO community has been debating CTR's impact on rankings for years. In this study, we want to answer this question and test for the effect of increasing Click-Through Rates (CTRs) on Google Search rankings. We boosted the organic CTR of 60 websites for 30 days and found a noticeable, positive effect on page rankings for personal injury lawyers.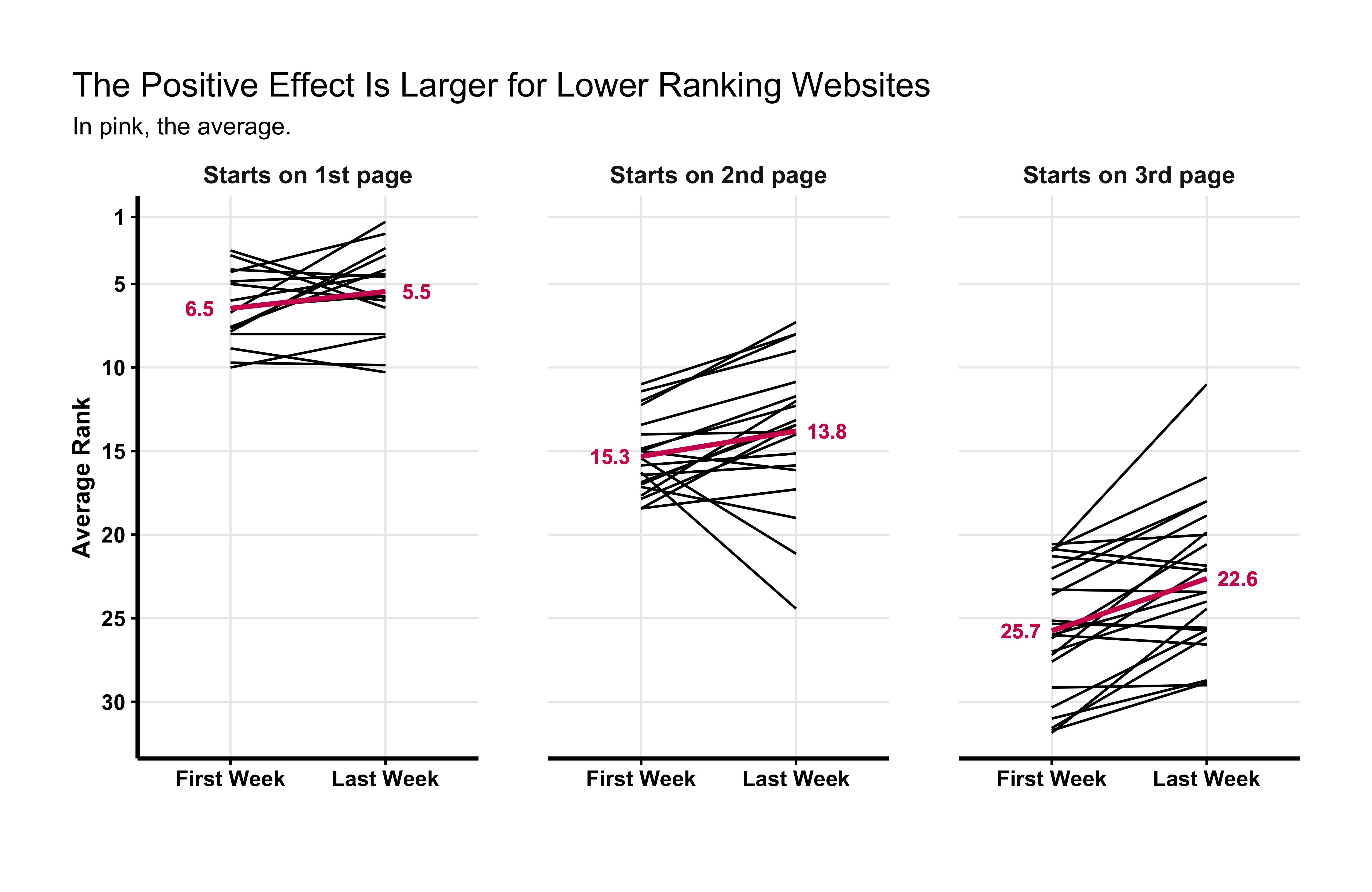 How Proximity Affects Rankings in Local Google Search Results
We performed a study of 1,000 personal injury law firms to see how quickly Google rankings decline based on distance from a business. We found that if on average the ranking decreases exponentially with distance (and not linearly), some companies were able to hold their high ranking on a large radius. The study shows the importance for companies to optimize local SEO rankings if they want to be found on Google Maps.
Yext DataHub Study
Yext, a company that provides enterprise search solutions based on natural language processing and artificial intelligence, publishes anonymized data on its Search Data Hub. I analyzed the data for the legal services industry and presented key findings relevant to personal injury lawyers.